We all know that finding quality pet products can be challenging. I had recently experienced it by myself when I decided to get a fence for my dog to run free outside in my back yard. I won't lie – I spent hours. I have checked dozens of different products. And tried to identify the best solution for my big fellow. If you are also a dog lover, you might want to consider some of these findings before making an investment.
Things to Consider Before Choosing a Right Dog Fence
Choosing a fence for your dog might sound much more than it actually is. Yet, it's not only the fence price or a look that would go along with your house or exterior you need to think of. Your choice will also depend on your neighbourhood regulations. Dog's breed, its character and much more.
Dogs are born to explore. But, dogs lack the ability to determine when they have ventured for their own good. Yet, not all dogs are the same. For example, what might be suitable for Labrador, can be an opposite for Miniature Pinscher or vice versa. So for starters, you might want to look up for the fences that best suit your dog needs.
Dog Breed and Size
Big dogs need big fences – they climb, jump and are strong. The key features of a fence for these dogs are height, material and resistance. If you are the owner of a Husky, Golden Retriever, Labrador or any other big canine companion. You should look for a fence with a height of 5 – 6.5 feet (1.5 – 2 meters). A bad idea for climbers is a chain link fences – they provide your dog with easy footholds. You should look for a solid panel fence that has a flat surface without anywhere for your dog to stick his paws. The other important thing is to choose the material that can resist severe weather conditions. as well as dog's charging, chewing and digging. High-quality wood, vinyl, or composite materials can be a solution here.
If you have a small dog, you should worry less about the height of the fence. But you will have to make sure it has all anti-climb and anti-dig features. Little dogs can get injured more than big ones. So you should think twice before getting a metal or chain link fence. A small- to a medium-sized dog can squeeze between fence pickets and escape if space is wide enough. Besides that, your pet can harm itself. For this reason, the structure and the material are the key features while choosing a dog-friendly fence.
Specialists say that dogs depending on their age or sexual interest. Also with lack of stimulation or training, will not be stopped from acting against the rules including jumping or ruining the fence. So the other thing you need to consider is the lifestyle and the character of your dog.
Dogs Character and Activity
Dog's character depends on its breed, but we all know the saying "like owner like dog". If you spend enough time with a dog playing, going for a walk or running with him. It's most likely he will be less eager to spy on what is happening behind the fence. What does it mean to you? You will be able to choose a fence-less similar to a castle wall.
Yet, it's only an obvious observation. If you have a curious, active and/or especially a young dog. Spending enough time with and putting a little fence will not be a solution. What you need to consider is putting a fence that will give some privacy for your fellow. For example, chain link fences drive dogs wild. Because they can look right through and see exactly what they're missing. They will run up down the fence line barking, growling, howling and scratching the fence.
The decision of choosing a fence for a passive dog is much easier. You don't need to worry that your dog is going to be interested in a breakout. The one thing that matters here is your dog size. If it weighs a lot or is a big grownup – it can jump on the fence and do some severe damage. Thus, the reliable and good quality material of the wall becomes the top priority here.
Pet's skills
As I mentioned before, the activity and the character of a dog is an essential feature for choosing a fence. It includes the exact pet's skills. If you need a fence to keep your dog in your yard, but you won't pay attention to your companion, he might get bored. So, boredom is a significant factor that tempts dogs to try to escape your yard. Even for well-trained dogs, it can be a cause of searching more fun outside.
What's more, dogs are smart, and they learn by watching their owners. We all have seen funny Youtube videos, where they are opening the backyard gates or doors quickly. This is why you should think about a gate that latches on its own and requires a two-handed opening.

Other Animals
Keeping your dog in the fenced area doesn't always mean keeping other people's pets or even wild animals away from your property. If you want to make sure nobody gets in through your fence, you should think about your neighbours' pets as well. Are they being walked on a leash? If not – will they be curious to hop on your fence to say hello to your dog? Or are you living in a forest area where many wild animals can come and dig in? What would they be? These questions will provide you with an answer on what kind of fence structure you need.
Size of the Fenced Area
If you have decided to purchase a fence for your dog. You have already considered how much space you want to enclose for your pet to roam free. The most common option is to enclose the entire backyard. However, some pet owners choose to allow a smaller space for pet containment. The worst thing here is to disregard your pet needs. For example, I have seen a Huskie closed in a 4 square meters outdoor kennel which is absolute torture for this animal. Make sure you select the right size area to be fenced. It is crucial that space for dogs is large enough for enjoyment as well as relieving themselves. If you can't provide it, the extra solution here can be creating a dog-friendly yard to keep your dog entertained between the fence walls.
Maintenance
First of all, you need to answer yourself a question if your dog is destructive? Dogs with destructive tendencies may rip off wooden pickets from fences. Aluminium and vinyl fence systems are maintenance-free. And are not as destructible as a wood fence. The next maintenance option to consider is the fence itself. If you have a higher budget and don't want to spend time for repainting, repairing or replacing the fence. You might want to check for some new solutions such as invisible wireless dog fence.
Neighbourhood Regulations
Besides being a good dog owner, I recommend being a friendly neighbour too. Don't forget to double-check your Home Owners Association (HOA) bylaws or community regulations for any restrictions on fence style. Unfortunately, some HOAs don't allow fences or only allow specific kinds. If your neighbourhood restricts you from building a fence. An invisible fence is an excellent option to keep your dog safe in your yard.
Considering The Types Of Fences
There are many types of outdoor dog fences you can choose for your home yard. However, not all of them are dog-friendly. I collected the main types that can be adapted for you and your dog needs. Check them below.
Picket Fence
Usually, these fences are made of wood. But some of the manufacturers also offer other types of material. Like vinyl, aluminium and polyvinyl compound (PVC). For example, vinyl picket fence will serve you longer and is maintenance free. Despite being so one of the most popular residential fence type in the USA, these fences are usually best for smaller breeds. You can not expect this type of fence to keep your golden retriever, or other big size dog contained. They will be able to climb jump over the fence with no additional effort. Yet, if you own a small dog, you need to make sure that your four-legged friend doesn't fit between the slats.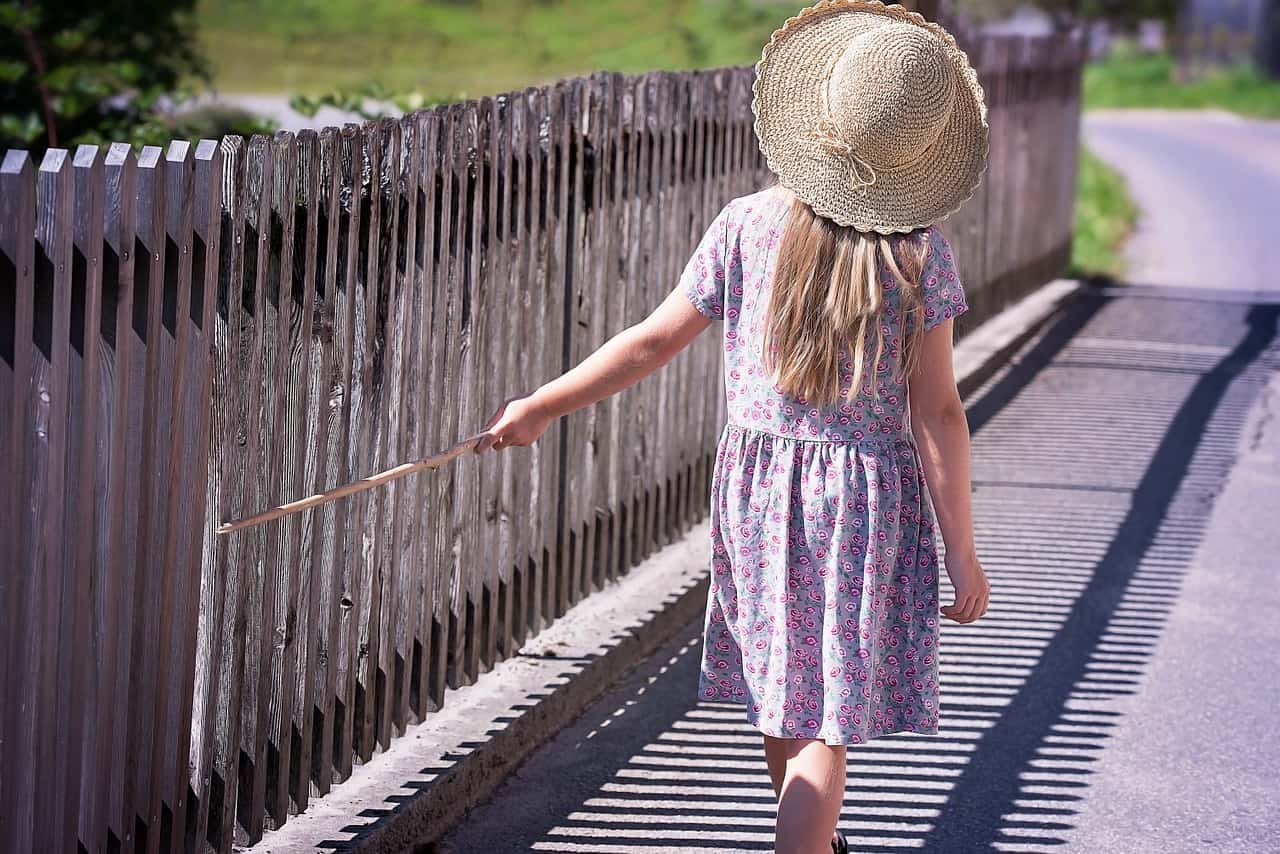 Wooden Fences
Wooden fences are one of the best choices if you're looking for some privacy. In this case, you should choose a solid wood fence. It is ideal if your dog tends to bark or growl at passers-by as it provides high stability and privacy. It will block the street or neighbours yard from your dog's sight and hopefully limit his noise-making. Additionally, wood fences can be quite tall. Which can prevent your dog from jumping over the fence to explore the neighbourhood? To add aesthetic value, you can also choose a style from the vertical board, board on board, paddock and stockade style fencing.
Chain Link Fences
Chain link fence, compared to other fencing types, is a low cost and low-maintenance option. Additionally, chain link fences are ideal for their strength. It can provide an extra sense of security if your dog loves to chew their way through any surface. This fencing type allows your dog to see it through. If you have a calm dog and don't want to block your house view from the street, it might be a pretty good solution. What is more, you can always train vines or other plants to obscure his view through the fence.
Vinyl Fences
The most significant advantages of vinyl fences are privacy, longevity and easy maintenance they provide. These fences are weather resistant, UV protected and will not rot or change their color as a wood do. Many fence sellers are also able to offer eco-friendly options. Or provide you with a few years warranty. Another great feature of a vinyl fence is that it's durable and flexible at the same time. It means it can take your dog's weight and force (if he decides to jump or lean on it) and will not be damaged.
Privacy Fences
I already mentioned the main fence types that would be the right choice if you want to get your dog some privacy. These fences are made from solid wood, PVC, vinyl, or other materials. Wood is generally the most affordable option(depending on the country you live in). While those made from plastics or other composites can be a little bit pricey. Yet, they need less time to maintain.
Privacy fences made taller (over 2 meters) and their slats directly contact each other. It gives much more security as no gaps are present. These fences also limit visual stimulation, and it's probably the best option for dogs who get quickly excited when they see other pets or people.
Brick Fences
Brick fences might not sound very appealing, but it's a great dog digging prevention. From red bricks to concrete blocks can be used building such wall and this lets you design your fence to make them somewhat fence-like. Another advantage here is that you can create as height fence as you like. They're sufficiently resistant to contain the largest and most active dogs. And another excellent thing that they would not require a lot of maintenance.
The biggest concern getting the brick fence is their cost. Also to mention that brick fence will need considerable expertise to construct appropriately. Which will also increase in the total price.
New Fencing Alternatives
Thanks to all dog lovers and rapid technology development, traditional fences aren't the only way to keep your dog safe. There are a number of other alternatives available in the market to suit your situation well.
Invisible Wired Dog Fences
Disadvantages of this fence are complicated installation and repair procedures. To install an invisible wired fence, you will have to dig a trench around your all yard. After you have to place a wire in the channels and then buried it. Then you must use the cable to connect with the control box, which will, in turn, connect to an outlet on your home. Your dog will receive a collar which is capable of delivering a light shock to your dog when he crosses boundaries. You should also plan some time to train your dog to use this fencing and system. Without training, dogs can't understand why they are being shocked.
Invisible fences are the best for dogs who are not inclined to wander off in first place. So that fence can serve as a reminder that the dog stepped out of his territory.

Invisible Wireless Dog Fences
A much better solution for the invisible wired fence is a wireless dog fence. Wireless dog fence uses GPS or radio signals to communicate with your dog's collar. It determines yards perimeter and ensures that the dog is not travelling outside of the predetermined boundaries. Unlike a wired dog fence, this fencing type is easy to install. It's portable and can be used on multiple dogs (you'll have to buy various collars). Also, the boundary lines you can adjust according to your needs and aren't permanent. However, in some cases, boundaries may fluctuate to a small degree or a circular area. And some units are affected by signals/radio reception.
Important note: These fences are safe for your dog, but you must do invisible fence training for your dog first. Otherwise, your dog can become terrified to go outside. Or will sit immobilized in the yard and will be afraid to move.
GPS Collars
I was amazed by how many options there are in the market for GPS collars! You can choose whatever colour and style you want, and they all have something different to offer. I spend a few hours analyzing the best 2018 collar GPS reviews. What I learnt here is that it doesn't matter what kind of dog breed you have, this will fit any of them.
I would recommend a collar that could connect with your Smartphone or computer. Then it can provide real-time updates on your pet with the help of GPS, Wi-Fi, Bluetooth and the mobile data package too. They are like popular fitness bracelets for people! You can track your dog's positions, activity, sleep, temperature, vet records and more. You can also stay in touch with your dog. Of course invisibly, through your Smartphone with GPS based collar. When you are away (you will need a dog collar camera to track your pet's activity on the live screen or check). They are portable, chargeable and have special lighting for your dog in the dark.
Like invisible dog fences, some of the GPS collars also provide a static/shock correction, bark control features. Despite that, you will also have to train your dog to make him adapt this new accessory on his neck.
Leash Stakes
Sometimes, using a dog leash and will help to keep your dog out from under your feet, which is safer for both of you. Although your dog should not be alone for hours in some circumstances. It might be necessary to tether him. Here is what you need to think about first:
Pay attention to your dog's weight. It's one of the main features as dogs leashes designed for different needs. They correspond to your dog's weight and come in different length and strength. You can always check the manufacturer's regulations on the package. Or ask a specialist before purchasing the product.
Temperature and climate of your living area. It's a significant factor that affects your product's longevity. If you want a leash to serve you longer, you should take into account the weather conditions in which you usually walk your dog.
Length of the leash. Too long cable or a leash can be a threat to your dog's safety. Keep in mind that some of the materials are capable of tangle and knot. If you don't want your dog to hurt himself, make sure not to leave him unattended when on a tie-out.
Visibility. Your dog's leash or chain should be visible from different points of view. It's essential if you want to keep an eye on your dog's location and make sure it's safe and sound.
Outdoor Kennels or Playpens
Outdoor kennels, playpens or dog runs is an alternative solution for a dog fence. If you want your puppy to get adequate fresh air and exercise each day. It's also a cheaper solution than fencing your yard. And it can offer a safe and secure play area outside if you pay attention to details.
First of all, you need to make sure it's high and durable enough for dogs that jump and climb. As many of them made from the same materials as dog fences. All the things I mentioned before to consider when choosing a fence are applicable here as well. Another essential feature is the safety. Depending on the climate you live in, your choice of the kennel or playpen should protect your dog from excessive sun, wind, rain, or snow. You should also be aware of a secure locking mechanism. And place to padlock for extra security. As mentioned before, dogs are smart, and they usually don't want to be left for a long time alone. That's why I recommend making sure your dog isn't afraid to be left locked and it all can work fine.
Making a Decision
To sum up, while choosing a dog-friendly fence you must first consider the need to provide a secure barrier. It's necessary to put your dog needs first. After narrowing the choice, you can then choose the most attractive option that compliments the look of your home. Remember, a dog fence will not replace your love. Attention and regular exercise – any dog needs to get that to have peace of mind wandering in your yard alone.